Atlas Platinum PVL Quadro Four Post Wheel Alignment Lift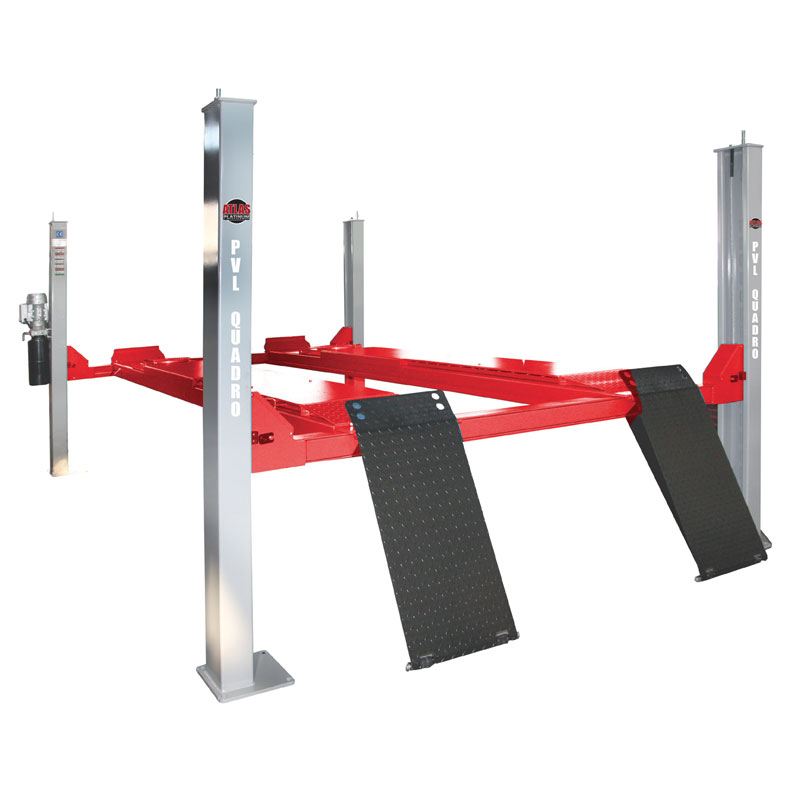 The PVL Quadro is the latest addition to the Atlas Platinum lifting range
Built in true 'Atlas Platinum' style, the PVL Quadro is a premium quality 4 Post lift with integral alignment platform.
Available in 2 platform lengths, 4.5m and 4.8m, the lift boasts a 4200kg lifting capacity, cable synchronization, and ultra-secure, automatically-engaging locking facility, making it perfect for wheel alignment application where consistent positioning of the platforms is crucial.
A simple manual locking release for maximum reliability and longevity and full homologation to EC Directive 1493:2010 provides peace of mind that you are investing in a truly robust and versatile lift for your alignment business.
The PVL Quadro is compatible with any type of wheel alignment system, but makes the perfect partner for an Atlas Platinum Alignment System, with special 'Package Prices' available when purchased together.
| | | |
| --- | --- | --- |
|   | PVL QUADRO | PVL QUADRO/LP |
| Lift Capacity | 4000kg | 4200kg |
| Max. Raised Height: Standard Type | 1800mm | 1800mm |
| Min. Lowered Height: Standard Type | 130mm | 130mm |
| Runway Length | 4506mm | 4808mm |
| Runway Width | 512mm | 512mm |
| Width Between Two Columns | 2850mm | 2850mm |
| Overall Length | 5140mm | 5400mm |
| Overall Height | 2263mm | 2263mm |
| Overall Width | 3154mm |  3154mm |
|  Raised Time |  60 seconds |  60 seconds |
|  Noise Level |  80 dB (A)/1m |  80 dB (A)/1m |
|  Rated Pneumatic Pressure |  6bar – 8bar |  6bar – 8bar |
|  Working Temperature |  10 °C–40 °C |  10 °C–40 °C |
|  Average Weight of Package Standard |  1250kg |  1210kg |
 A traditional design means that the PVL Quadro can fit into many existing recesses, saving on expensive building work.
An extensive design project has seen the introduction of a single hydraulic operating unit for both the lift and the play detectors, resulting in a far more simple and reliable design than those of the competitors.
An alignment version is also available, allowing for a dual-revenue opportunity where the alignment bay and ATL bay are combined.
Atlas Platinum went all out for the design of its Quadro lift, built to work seamlessly with the Platinum alignment range, in particular, the Atlas Platinum PWA-3D aligner.
Built-in rear slip plates and recesses for the turn plates, which are supplied as standard, ensure complete operational efficiency. The result of this approach is a simple and reliable solution in a sleek Platinum package.
Platinum Built, Platinum Safety
Mechanical synchronisation is driven by steel cables for increased strength & operational efficiency, while a mechanical lock with automatic engagement & air-operated release ensures maximum safety. 
A pressure overload valve is equipped in the power unit & a 24V safety control ensures this Platinum lift is fit for use in any garage.