Atlas Platinum PWB90 Premium 3D Sonar Wheel Balancer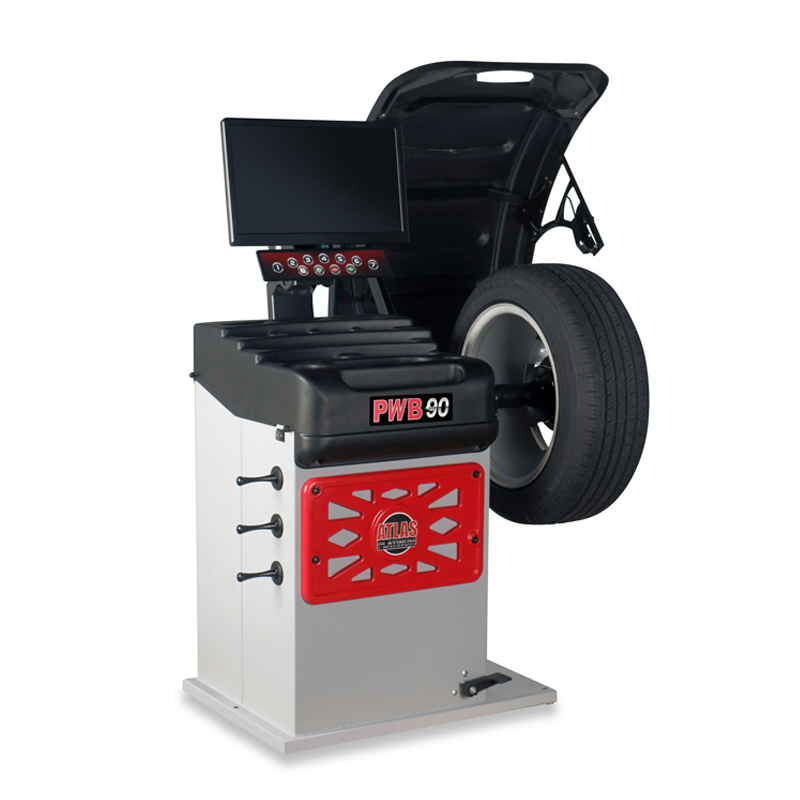 A top of the line wheel balancer with super-automatic (3D) data entry via sonar.
Simply choose your weight positions and lower the hood. All data is entered automatically, and results are displayed on the impressive, full-colour TFT display.
A tyre technicians 'go to' wheel balancer due to its speed and simplicity!
The latest high-performance wheel balancer from American Tyre Equipment giant, Atlas Auto Equipment, the PWB90 offers unparallel balancing features.
Make no mistake, the single-phase PWB90 is a real top of the line wheel balancer, competing with those big name brands seen as the benchmark for premium quality. This model guarantees speed, accuracy, and long life by combining Italian engineering and components with the Factory Direct Value that ATLAS is known for around the World.
This machine offers Super Automatic 3D Data Entry via a single data entry gauge for offset and diameter, and touchless sonar for rim width (no more old-fashioned measuring arms). Using the weight placement arm, the user can choose the most convenient location to put the weights, and a laser will guide the operator back to the exact location after the spin cycle, eliminating any possibility for human error and ensuring first time zero/zero results.
Discover impeccable balancing capabilities with the PWB90 and you will benefit from: 
Single-phase wheel balancer (1ph)

Super Automatic 3D Data Entry
Touchless Sonar for rim width
Weight Placement Arm
Laser-Guided Weight Placement
Fast & Easy Split Function (FES)
Opposite Weight Function (OWF)
OPTIMACH Software included
| | |
| --- | --- |
| Max Wheel Diameter | 43″ (1100mm) |
| Rim Diameter | 10″-30″ |
| Rim Width | 1 ½"-20″ |
| Shaft Size | 40mm |
| Max. Wheel Weight | 165 lbs (75 kg) |
| Balancing Speed | 130 R.P.M |
| Power Supply | 110VAC or 220VAC 1Ph |
| Accuracy | 1 g |
| Cycle Time | 7 seconds |
| Shipping Weight | 290Ibs |