Atlas Platinum PWB50 Semi Automatic 2D Wheel Balancer with Digital Display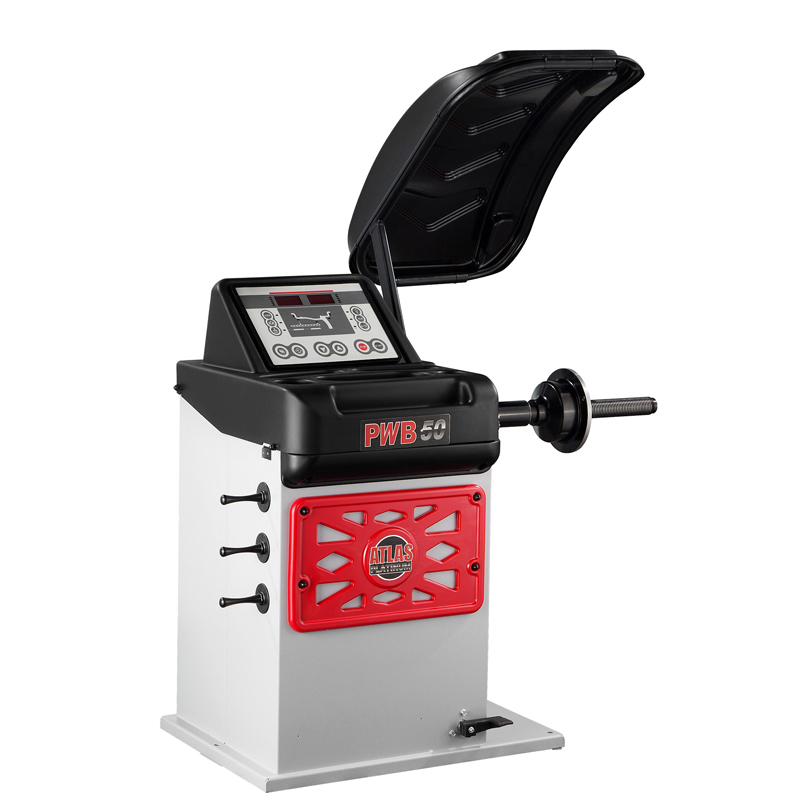 The PWB50 is a compact yet feature packed wheel balancer, capable of withstanding any environment.
The auto data-entry arm (2D) provides automatic measurement of the rim-width and offset. It can also be used to choose the desired locations for adhesive weights.
All electronic components are manufactured in Italy, ensuring reliability and unrivalled accuracy.
Whether you have your own garage or work in one as a technician – Atlas Platinum is the equipment you need!
The single-phase PWB50 is an electronic wheel balancer with an easy to read LED display and that offers Automatic 2D Data Entry via a single data entry gauge. There are 4 separate ALU adhesive weight configurations as well as an ALU-S mode to assure direct and accurate dynamic adhesive weight applications.
The Fast & Easy Split function (FES) makes hiding adhesive weights behind the spokes a breeze and the OWF, Opposite Weight Function, allows an operator to change the weight application position from 12 o'clock to 6 o'clock for convenient access when applying adhesive weights.
Optimization of tyre and wheel unbalance (match mounting) is possible with the PWB50 via OPTIMATCH software and makes balancing even the most difficult assemblies easy and efficient.
The PWB50 is packed to the brim with premium features and ready for you to take full advantage of: 
Single-phase wheel balancer (1ph)

Pedal brake
Self-diagnosis
Self-calibration
OPTIMACH function
The Fast & Easy Split function (FES)
Special ALU-S program
Automatic start and stop
Complete with a wheel guard
Truck adapter set optional
Standard or Metric Display
Static and dynamic balancing
OPF function (Opposite Position)
A huge combination of ALU programs
NWN system (no wheel need system)
2D Data Entry (Diameter and Offset)
A USB hub for firmware update through PC/Notebook
Complete with cones and quick clamping ring nut
An automatic measure of wheel diameter and distance.
This wheel balancer is supplied with 4 balancing cones small, medium, large and extra-large along with a set of weight pliers the price includes delivery and 24-month parts and labor warranty.
| | |
| --- | --- |
| max wheel diameter | 43″ (1100mm) |
| rim diameter | 10″-30″ |
| rim width | 1 ½"-20″ |
| shaft size | 40mm |
| max. wheel weight | 165 lbs (75 kg) |
| balancing speed | 130 r.p.m |
| power supply | 220v 1ph |
| accuracy | 1 g |
| cycle time | 7 seconds |
| shipping weight | 225 lbs |